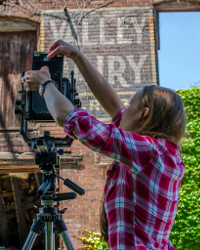 Analog photography is tactile and nostalgic, a magical combination of science and creativity. The depth and uncertainties are alluring, and I am drawn to the ambiguities and imperfections. Although I try to photograph my subjects as realistically and objectively as possible, I am most interested in the transformation from reality to photographic image and the lies that can be told in between these two states. It is here, at the juxtaposition of documentary style and experimental techniques, where stories dwell. I often shoot subjects at night, using long exposures to capture imagery that is impossible to see with the naked eye.
EDUCATION
Pittsburgh Filmmakers, Pittsburgh, PA
Photography Certificate
New York University, New York, NY
Master of Arts Candidate, Cinema Studies
Duquesne University, Pittsburgh, PA
Bachelor of Arts, English
Bachelor of Arts, Art History
EXHIBITIONS
Incandescent Obsolescent, analog motion pictures and photography from members of Analog Liberation. Irma Freeman Center for the Imagination. December 6, 2019 – January 19, 2020
Palimpsests: Ghost Signs of Pittsburgh, Pittsburgh Filmmakers Galleries. March 14 – May 16, 2014
Pittsburgh Center for the Arts, Ward Home Juried Exhibit: Picture This!, January 2013, Kurt's Garage, Edgar Thomson Steel Works
Awarded Second Place
Pittsburgh Center for the Arts, Ward Home Juried Exhibit: Picture This!, January 2012, Polish Hill #1
Pittsburgh Filmmakers Galleries, The Last Thesis Show, December 2011-January 2012, Pittsburgh by Night (12 piece show)
Three Rivers Arts Festival 2011, Juried Visual Art Exhibition, June 2011, The Dormont T
GRANTS
BIO
My childhood was spent just north of the City of Pittsburgh, searching for frogs during the summer and sled riding during the winter with my brother, Matt, and my dog, Max. I first learned photography from my dad, who bought me a Minolta x-370 SLR camera when I was eight years old. I still use that camera today. In high school, I began experimenting in the darkroom and discovered Brassai's incredible Paris by Night series, which prompted my own experiments with long exposures. I kept shooting throughout my undergrad at Duquesne University, while taking classes at Pittsburgh Filmmakers. I left Pittsburgh for New York University for a long semester as a grad student at Tisch, but had a change of heart and realized I wanted to come home. I completed the Photography Certificate at Pittsburgh Filmmakers with my Pittsburgh by Night series in 2011.
I worked at Pittsburgh Filmmakers between 2012 and 2019, through a long period of transitions for my life, career, and the organization itself. When the Melwood building closed at the end of 2018, it felt as though a very special time and place in my life had come to pass. I was a student, an intern, a teacher, and an employee at Filmmakers. I learned a lot and met some of the best people; I even married a guy from one of my classes there, David.
During the summer of 2018, I started an independent analog darkroom and community with a group of friends from Filmmakers. We named our group Analog Liberation and sought to free ourselves and our work from the vestiges of what had become of the place we grew to love and hate. We had our inaugural exhibition at the Irma Freeman Center for Imagination at the very end of 2019. It was a celebration and an end to the saga of Filmmakers. It feels like it was just last month, and simultaneously, a lifetime ago.
2020 was a fresh start, and then a global pandemic hit. My baby was born. I've been slowly working on a backlog of photographs and taking a lot of pictures of my daughter, Emelyn and my dog, Juniper.